Lithuania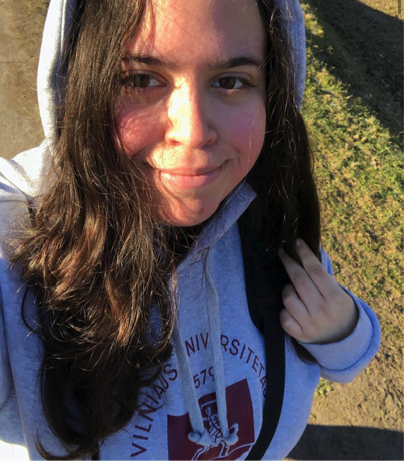 Alexis

Spring 2020
Vilnius University
Vilnius, Lithuania

Alexis is a Psychology major here at LR and studied abroad for a semester in Lithuania through ISEP. She studied abroad because she wanted to get out of her comfort zone and she wanted to immerse herself in a new culture.
What have you gained from deciding to study abroad?
I definitely gained a new perspective and realized that not everyone is similar to Americans and that Lithuanian traditions are vastly different, but equally fun as American traditions!
Did you benefit from any scholarships? If so, describe which ones and what that meant to you.
I received the William and Robert Shuford Scholarship, which alone, helped me pay for just about everything that I needed in preparation of study abroad (application fees, plane ticket, miscellaneous, etc.). After paying for all of those things, I still had enough scholarship support to help pay for any items that I wanted/needed while abroad such as food, educational materials, gifts, etc. I also applied for the ISEP Community Scholarship and was one out of ten students worldwide to win funding in the amount of $500. In some ways, this scholarship meant more to me because I made LR history by being the first student to apply for an ISEP scholarship and I was able to talk about my life and bring the world a little closer to getting to know LR. You can read about the Community Scholarship winners, like myself, here:
https://www.isepstudyabroad.org/articles/924
Would you go back?
Of course I would go back! I quickly fell in love with the country and the locals. I also made a lot of new friends from all over the world through the international studies program, and I cannot wait to go back and visit my friends and experience the traditions, people, clothing, and food again!
Do you have any advice for students interested in studying abroad?
DO IT! When I first talked to the SCIE about studying abroad, I was provided all of the information needed, which inspired me to take the leap. I was super nervous about leaving the United States, but I am so glad that I did! I am a First-Gen, Hispanic, Baptist, LGBTQIA+ supporter, tattoo enthusiast, mental health advocate/survivor, female that comes from a large family and I am so proud of overcoming my fears of leaving the life I knew behind to start a new and important chapter. Studying abroad changed my life and perspective of the world forever. The amount of support was overwhelming and I would also recommend trying to go to a program that LR students haven't gone to before. I am super proud to have made history as being the first student from LR to every study abroad in Lithuania and it is something I will forever carry in my heart.