Germany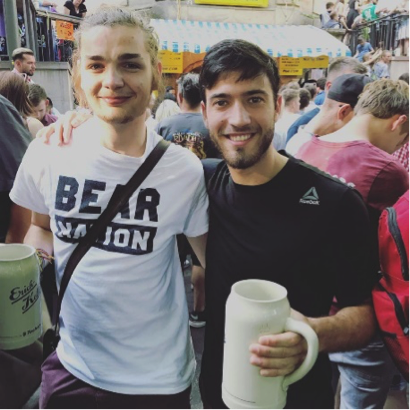 Santiago

Spring 2018
Faculty-Led Program
Nuremburg, Germany

Santiago is currently an MBA student at LR, but he studied abroad on a faculty-led program while he was studying Entrepreneurship in his undergraduate career.
What have you gained from deciding to study abroad?
During this trip I learned many new lessons. First, I learned about the history of Germany and how the country's culture has been shaped by it. Secondly, we had the opportunity to analyze how businesses and entrepreneurs combine business practices with a social mindset.
How is life in your host country different from life in Hickory?
The biggest difference between Hickory and Nuremburg was the transportation in the city. During our trip, we barely drove a car, we traveled to almost all of our destinations using public transportation or walking! Actually, every local student owned a bike instead of a car.
What is something you did not expect about your host country?
I knew Germany was very particular and unique; however, I did not truly realize its magnitude until I visited the country. Nuremburg was full of history. Every building, street, and decoration had a meaning and a story behind it.
Would you go back?
Absolutely! If I have the chance to visit Nuremburg again, I will do it without a doubt. Not only is Nuremburg a lovely city, but also I had a great time and made great friends from our German partner university. In addition, I am currently considering applying for an internship summer program there!
Do you have any advice for students interested in studying abroad?
Do not think twice about it, just do it! Studying abroad is absolutely worth it! It does not matter the destination or the length of your program, I can guarantee you would love it. You will not only learn about your class topic and another culture, but you will also make memories that last forever.
Spoiler alert:
If you do it, you will love it!
---
Ainee

Summer 2019
Hochschule Magdeburg-Stendal
Germany

Ainee is a senior and is double majoring in German and International Economics with a minor in French.
Why did you decide to study abroad?
I love learning foreign languages and I would love to be completely fluent one day. I believe that the best way to become fluent is by spending some time in the origin country. A whole semester abroad was not the best option for me since I am on the Women's Golf Team at LR and we are in season in the Fall and Spring; therefore, I decided to take the opportunity to study abroad for three weeks in the summer to improve my German skills.
What have you gained from deciding to study abroad?
Three weeks was not a very long time, but I did improve my German speaking skills, increased my confidence, and my desire to become fluent. I also met lots of new people from different countries and cultures.
What is the greatest challenge you faced while studying abroad?
I was the only student from LR to participate in this study abroad program, which was quite daunting at first, because I did not know what to expect. Most people had at least one other person from their university and so I really had to step out of my comfort zone.
What was the most exciting experience you had while studying abroad?
The most exciting thing was going to a restaurant or coffee shop and being able to order in German or listening to somebody speak German and being able to understand it. This was very rewarding for me.
What other cities did you visit?
We got to have three day trips to Magdeburg, Berlin, and Tangermunde. I really enjoyed these excursions and definitely want to go back to Berlin!