UK
Brian Vargas

Fall 2019
Canterbury Christ Church, British Studies
Canterbury, Kent, UK

Brian is a senior international business and marketing double major, who decided to study abroad at Canterbury Christ Church University in Canterbury, Kent, UK.



What have you gained from deciding to study abroad?
I've gained a multicultural perspective. I'd safely say that in these past 3 months, I've learned that life is very different in every country. Even between first world countries, there is a huge disparity. Also, I've learned that there are second world countries, despite that term never being used. Finally, the world is old, but the US is relatively new compared to it.
What is the biggest difference between classes at your host university and classes at LRU?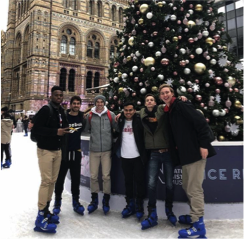 Classes at LR are more interactive and critical thinking based, meanwhile classes here at CCCU are very much memorization. While both teach with powerpoints and many a times read off of it, it is the norm for teachers at CCCU. Homework is also non-existent which leaves a lot of the outside of the classroom thinking at none. Expect a more knowledge is power approach and less of a think for yourself approach.
What other cities and countries did you visit?
Amsterdam (Netherlands), Ibiza City (Ibiza, Spain), Milan (Italy), Bruges (Belgium), Antwerp (Belgium), Cambridge (UK), London (UK), Dover (UK)
Would you go back?
I will 110% come back to Canterbury, UK to see all my friends. I loved it here, and the friendships I've made. British culture is pretty nice to integrate into and get to know. My music choices have changed, and many other little aspects about myself as well. I enjoy the growth that I've gotten to experience from living in this beautiful city and country. I would love to come back, because of this and the memories that have been built here.
Do you have any advice for students interested in study abroad?
Do it! It is worth the experience, but make sure you do enjoy the experience. Go out and have fun, meet citizens of your country, and above all else, don't live thinking about home. Live in the moment and enjoy it as much as possible. It helps out with homesickness and also really lets you enjoy the experience as much as possible.