Costa Rica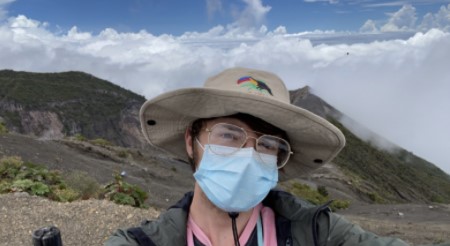 Devin

Summer 2021
Universidad Veritas
San Jose, Costa Rica

Devin is a Nursing major who chose to study Medical Spanish and Costa Rican Health Care Systems/Tropical Medicine. He selected this program because he believes that in health care it is very important and helpful to be bilingual, and here in the United States we have a very large Spanish-speaking population.

Why did you decide to study abroad?
I decided to study abroad because I wanted to challenge and push myself. I have always wanted to learn Spanish and I knew the best way to do so would be to go to a Spanish-speaking country. I also wanted to experience what it was like in other parts of the world. I have never had the chance to really travel, so getting the opportunity to study abroad with a great scholarship was a blessing.
What is the biggest difference between classes at your host university and classes at LRU?
The biggest difference between classes at my host university and at LRU is the way grades and assignments were given. At my host university, and in Costa Rica in general, grades are not as big of a deal as they are in the states. I personally had essentially zero assignments during my whole program because the courses were more conversation based. Because we didn't have assignments, we had to converse with our classmates and the professors a lot more. This was hard in its own way but made learning the language so much easier. There were also no exams.
What was the greatest challenge you faced while abroad?
The greatest challenge I faced was by far the language barrier. I went to Costa Rica having only taken one and a half semesters of basic Spanish. While this was challenging to begin with, living there in the country made it very easy to pick up the language. Costa Rica is also a very social country and people will always come up to you and talk to you. This was an adjustment at first because I can be socially anxious at times. However, it was nice because the people there are super friendly and always willing to help you practice your Spanish.
Did you benefit from scholarships? If so, describe which ones and what that meant to you.
I was a recipient of the William and Robert Shuford Study Abroad Scholarship and was blessed to attend my program without paying anything out-of-pocket. As a first-gen student who came from a poor family, getting the opportunity to study abroad and live in a different country for a month without having to pay any program fees out-of-pocket meant the world to me. This showed me that they really mean it when they say anyone can study abroad, and I will forever be grateful.
Do you have any advice for students interested in studying abroad?
My advice for students thinking about studying abroad is to DO IT! Anyone can study abroad and receive financial help for it! I am a first gen and LGBT student who had the opportunity to study abroad, and it changed my life. You will grow personally and professionally and make some of the best memories and experience some of the best experiences of your life.